Why Karin
(Scroll down for Karin's Background)
A bit about Karin:
I have benefited greatly both personally and professionally by knowing Karin due to her wisdom, experience and unprecedented knowledge of EFT and other Meridian Tapping Techniques.
Her tireless willingness to help others is a rare gift and, as such, I could not think of a person better suited to organize the USA's first Advanced MTT organisation. Her passion for MTT is only surpassed by her drive to get this life-changing work out to the world. One of life's multi-talented and incredibly intuitive creators, a few days with Karin learning these amazing techniques is a treat that everyone should experience.  – Karl Dawson, EFT Master & Creator of Matrix Reimprinting  www.e-f-t.co.uk
The MBA of EFT
Karin, Your masterful delivery of material and our active participation during the EFT LEVEL 3 course in Annapolis was absolutely wonderful. I felt it was like the MBA of EFT. And if like they say that the proof is in the pudding, I must tell you my clients are definitely benefiting from it all. Thank you Karin and keep up the excellent work! – Leo Proano
You are Truly an Outstanding Teacher
Let me say first that the course on Matrix Reimprinting with you was one of the finest training courses I have ever attended. The material was so well presented, with a sense of layers of developing understanding, and outstanding insights and information and modeling. You are truly an outstanding teacher. Since I have a doctorate, and many other designations, I have attended quite a few trainings. I would put yours as one of the top and most effective. What talents you have. – Diane Butturff, PhD, CFP, CCP, EFT Cert 1
An Incredibly Powerful Healer and Teacher
I appreciate all of the generous help, support and guidance you have given me. Your unique gifts of combining a deep intuitive sense with a strong intelligence, a lively wit and solid grounding help make you an incredibly powerful healer and teacher. It is an honor to learn from one of the best. – Gerry, EFT and Matrix Reimprinting Practitioner
Blown Away in Merion, Pa
I am again blown away. How does a little tapping and talking, a little repeating of words suggested by Karin, relieve chronic lower back with which I have suffered for years? Could pain, in some cases, really be caused by some kind of emotional blockages? How is it possible that running my fingers lightly on specific points while talking dissolve those blockages? I am a business guy. I understand cause and effect, action and results. I don't understand how this tapping works but I do understand that in the hands of a well trained EFT professional are the skills necessary to free me from intense, chronic pain. Karin you are Amazing. EFT works. – Tom Richter
Safe Environment, In-Depth Knowledge
Karin's in-depth knowledge of EFT, empathy for her students and her highly developed intuition allows her to teach in a way that seems to reach and excite everyone in the room. What really gave me the confidence to practice EFT was listening to her share real life experiences and how EFT made a difference in someone's life  and also the hands on practice with fellow students in a safe environment allowing us to experiencing change first hand. – MF
Loving and Supportive
All is good!!! Very moving and eye opening. Karin is very loving and supportive. – BJ
Mind Blowing
Mind blowing, Karin. I cannot believe how much stuff I've learned in one day! Would like to be able to spend WEEKS being taught by you. – MG
A Huge Difference
Thanks for the work you have done with me. Can't say exactly what have changed but there is a huge difference everywhere. You are wonderful; firm, responsive, quick, clear and a zillion other things that I can't express without getting too emotional. – AND my mother called!!! Now that is really, really something… – Mona V
8 Years of Pain GONE
I have to tell you this. My sister has had back pain for 8 years. The last 3 chronic. She's tried chiropractic, dry needling, yoga, PT etc. no help. I offered to tap with her. I was not optimistic, I've had mixed results with pain and it is my sister, mixing energy could be tricky. I went over to her house yesterday. When we did the set up statement she started to cry. We did a heart thymus rub instead of karate chop. I felt she needed a softer touch.
She said she could not stand to be in this much pain daily. She works full time and has two kids under 10 and a husband.
We started tapping. First round, things started to shift, I was getting a little hopeful. Second round, even more shifting. Third round, she stretched, opened her eyes, looked at me and said, "you're kidding." Fourth round, even better. She tested her back, walked around, sat, stood, bent… no pain. I left after spending about an hour with her.
She told me grocery shopping was awful-pushing a cart was so painful. Today I texted her to see how she was doing. She said she was at the grocery store and she'd keep me posted but no pain. She just texted me again, hours later, said she has a few twitches but no pain. (of course, we did discuss the metaphor that her back is telling her i.e. the burdens she's carrying, not having a voice etc.) I cannot do that therapy work with her but I planted the seeds. Very exciting. – VS, Workshop Attendee
Click here to see what Karin's clients say.
Karin's Background: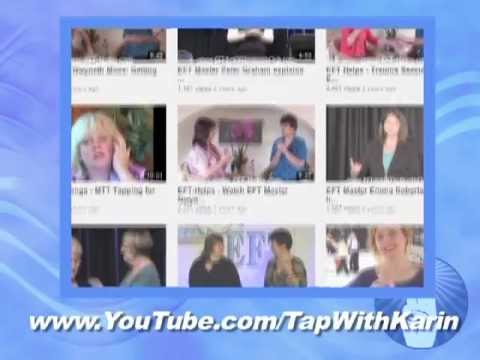 Certified Matrix Reimprinting Trainer
Co-author of the EFT Levels Comprehensive Training Resources with Ann Adams, director of the former EFT Masters program (www.EFT4PowerPoint.com)
Active EFT and Matrix Reimprinting Practice
Created www.YouTube.com/TapWithKarin
Developed the free program at www.EFTwords.com
Speaker at 2009 EFT Masterclass
Writer, webdesigner and interviewer for the MTTassociation.com website and co-editor of the MTT manual
Featured in EFT Hub and the Tapping Insider's Club
Guest Speaker for Living Energy Secrets, EFTproRadio, The Tapping Fest, Matrix Reimprinting Training Telecourses, and more
International Trainer for EFT (AAMET Certified)
Interviewer for the EFT Masters Worldwide Website and other programs
EFT Universe Training Certification Development Team
Co-Developer for the MTT Certification Program with EFT Masters Dr. Pat Carrington, Lindsay Kenny, Nancy Gnecco and other EFT Masters)
Member of ACEP – Association for Comprehensive Energy Psychology
Member of INHA – International Natural Healers Association Studied
Pre-Med for 3.5 years at Villanova University – BA in Communications
Reiki Master
Certified Hypnotherapist – NGH
Edited and Videotaped Meta-Medicine and EFT 9 DVD training set
Co-Trainer with Richard Flook – author of Why Am I Sick? and international trainer for Meta-Medicine
EFT Level 1 Certificate from Ann Adams, Director of the former EFT Master Program (and 3 more times with EFT Masters Gwyneth Moss, Lindsay Kenny and Karl Dawson)
EFT Level 2 Certificate from EFT Master, Dr. Carol Look (and 3 more times with EFT Masters Gwyneth Moss, Lindsay Kenny and Karl Dawson)
EFT Level 3 Certificate from EFT Master, Ann Ross (and again with EFT Master Gwyneth Moss)
Matrix Reimprinting Trainer Certificate from EFT Master, Karl Dawson
Ongoing EFT mentoring from Ann Adams, Director of the former EFT Master Program
Bob Doyle "The Secret"/Carol Look Certificate from their 3-day workshop
18 hour certificate from EFT Master Training Workshop in Dallas
18 hour certificate from the EFT Master Training Workshop in Denver
18 hour certificate from the EFT Master Training Workshop in Boston
18 hour certificate from the EFT Master Training Workshop in Sydney
Certificate from the UK Masterclass 2007 and 2008
Dr. Carol Look – various workshops including Trauma and Abundance 3-day workshops
Video taped and edited Gary Craig's EFT and Brain Waves Seminar in Boston
Attended the last EFT Master Candidate 2-day seminar (the program was then cancelled)
Videotaped and edited over 32 hours of private EFT sessions and teachings for various EFT Masters (Pat Carrington, Loretta Sparks, Ann Ross, Jaqui Crooks, Judy Byrne, Gwyneth Moss, Emma Roberts, Sue Beer and Tania Prince)
Created over 80 DVDs on EFT
Videotaped and Edited Sandi Radomski's Laser training DVD and Ask and Receive training DVD set
Various additional workshops in motivation, team work, training, management, ethics, marketing and writing
Read/watched over 300 books and DVDs on Energy Psychology*, EFT, Universal Law, Motivation, Alternative Healing, Education, Health, Nutrition, Natural Health, Business, Acupressure, After-Life, and more.
And gratefully really good friends with LOTS of GREAT EFTers (and that's what REALLY counts!)
| | |
| --- | --- |
| PTSD Cleared | It Helped My Business |
| | |
| A Psychologist Speaks | This Really Works |
| | |
| EFT and Chronic Fatigue | First EFT Session with Karin |
| | |
————-
*Energy Psychology is a term first used by the original founders of ACEP: Fred Gallo PhD., David Gruder PhD., and Dorothea Hover-Kramer.