Home

I am so excited to be an EFT Trainer. I love bringing this wonderful tool to help so many help themselves and others. And it's extremely important that there are standards, regulations, proper training & mentoring and a supportive membership community so we can grow, share and prosper.
AAMET.org has been training and certifying EFT Practitioners since 1999. There are hundreds of EFT trainers and mentors around the world so it's your choice. If you choose me, no matter where you are in the world, I would be proud and honored to help you be the best you can be.
I've been an AAMET trainer for years, and have been holding workshops, mentoring, creating training DVDs and providing free EFT information for all. I am now concentrating on individual practitioners. There is only one of me. We need many practitioners on this planet. I am now focusing on the individual practitioner along with my trainings. I have developed a new affordable, comprehensive program with one-on-one guidance as well as group mentorship – all following the AAMET guidelines PLUS whatever YOU may need or want. We must first master the foundation before we can move on to building. And because I am well versed in many EFT protocols including traditional EFT, Matrix Reimprinting, intuition, muscle testing, EFT masters' innovations, hypnotherapy tools, and much more, I understand using various EFT techniques in our real-life client sessions.
EFT Master, Jan Luther interviews Karin as an EFT Mentor
for EFT Academy.
Audio clip: Adobe Flash Player (version 9 or above) is required to play this audio clip. Download the latest version here. You also need to have JavaScript enabled in your browser.
I also understand that many of you have been trained in this field and you deserve to be credited. I will work individually (obviously within the AAMET requirements) to credit your previous work and current skills. Much of this is on a detailed page for those of you who are current practitioners.
I am honored to be of service.
Much Support,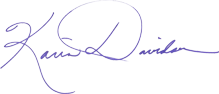 Karin Davidson
AAMET Certified EFT Trainer
Certified Matrix Reimprinting Trainer
Co-Author, EFT Level 1-3 Comprehensive Resources